Theodore Roosevelt rose to the presidency following William McKinley's assassination, serving from 1901-1909. The conglomerates led by Republicans who wished to decrease Roosevelt's power by putting him in the Vice Presidency now saw him become the most powerful person in the country, even freer to break up trusts than before.
Teddy Roosevelt is one of the more famed Presidents for a number of reasons. He was considered the epitome of 'manliness,' having served splendidly in the Spanish-American War and having continued giving a speech after being shot.
He was also popular for his progressiveness. Having grown up a sickly child, he had to travel to wide open areas with fresh air, where he gained an appreciation for nature. Due to this, he created national parks to preserve the environment of the United States. He also enforced laws to the end of consumer safety following Upton Sinclair's novel,
The Jungle
, which revealed the unsanitary conditions of the meat-packing industry.
TR also sought a less violent form of football, a sport already becoming a national pastime, after players became injured or even died in the game. But his domestic legacy lies with trust-busting. Monopolies on businesses was common in Roosevelt's era, and TR went to great lengths to further regulate these businesses and break up gigantic businesses that had swallowed other businesses.
Domestic policies did not completely define Roosevelt's presidency, however. Roosevelt oversaw the US intervention in the Panama-Colombia conflict, aiding Panamanians and striking a deal to build the Panama Canal, a colossal feat that the French before them could not finish. Teddy Roosevelt's famous saying, "speak softly but carry a big stick," applied mostly to his support of American imperialism.
After two terms, TR recommended friend William Howard Taft to run for President. He began touring Africa and Europe, but quickly became displeased with Taft's administration. He attempted to run for a third term, no longer with the Republican party but now with what is colloquially known as the Bull-Moose party. In votes, he lost to Woodrow Wilson, but ranked higher than the incumbent President Taft.
TR is one of the Presidents portrayed in Mount Rushmore.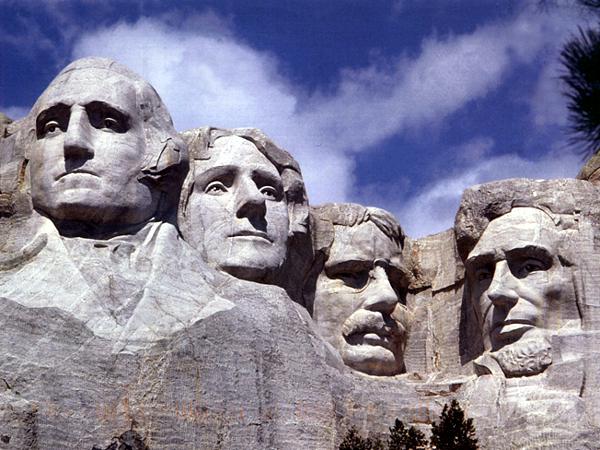 Sources: Wikipedia, Mental Floss, White House.gov, Nobel Prize.org